Membership
Sign up now as a
Grosvenor
Life Member


Brisbane's ONLY Topless Bar & Strip Club
Topless Barmaids & Waitresses
from OPEN until CLOSE
Wednesday-Saturday
11.30am-Late
FREE ENTRY
Neat Casual Attire (Thongs & Shorts & Workwear Are OK)
Come on in for a perfect cheap Pub Lunch & Dinner
NOTHING Over $25 & $8 Daily Lunch Specials
Enjoy a COLD beer or 2 served directly to your table by our amazing Topless Waitresses & Table Dances.
Check out our Sports Bar with BIG screen TV's and a giant projector screen showing every sports channel in High Definition.
The Grosvenor is the home of LIVE Sport... HOT Girls... COLD Beer...
If you're looking to book a Function or just to pop in for a beer, check out What's On... or click on Contact Us for more information...

We're your real home... you just go somewhere else to sleep!
---

The Grosvenor Strip Club & Topless Bar
OPEN
Wednesday - Saturday
8pm - 3am

$10 ENTRY
Smart Casual Attire

Stage Shows ALL Night

11pm Mega Strip Show - NOT to be missed!

Private Room & Fantasy Rooms

Table Dances

Topless Barmaids & Waitresses
---

Barber Babes
Brisbane's ONLY Qualified Topless Barber's
OPEN
Wednesday - Saturday - Open from Noon - 8pm

Walk-Ins Welcome
OR By Appointment in ADVANCE - SMS - 0415815731
This phone isn't womaned constantly so if appointment is required for that day we suggest you just come on in!
We can 99% of the time fit you in. You just may have to wait with a beer & admire the view for 20mins..
I know... TRAGIC! ;P
---
320 George Street, corner of Ann St, Brisbane CBD
Save
Save
Save
Save
Save
Save
Save
Save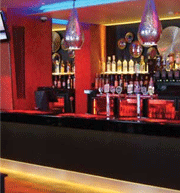 Functions...
Call 3221 0054
or 0415 815 731