Membership
Sign up now as a
Grosvenor
Life Member
Messages we have received from
VERY happy customers

( There are too many to write here, but these are a handful )
THANKS for taking the time out to write to us! Hope to see you again REALLY soon!
---
Hello, my name is Jamie and recently, the
27th of April 2013
, I had my bucks night at your venue.
I am writing this email to thank you for making my bucks night a very memorable one, we all had a great time. I would also like to express a special thanks to Roxy and the other girl with whom I did my stage show with, I am sorry but I can not remember her name. The both of them were very entertaining and made the night fun for all.
---
Hi.
I came to your bar tonight after a year and I loved what u have done with the place. It's fantastic.
My friend and I had private sessions with Holly and Hannah. On my receipt shown as 108 and 110 respectively. We had a fantastic time. I would love to know when they roughly work so that me and my mate can return again to speak to them alone and have a private session.
I would like to praise them on the professionalism and the fantastic work they did to make us comfortable!
Kind regards, Craig
---
Thanks for an amazing night, all the boys loved it especially the buck :) nick x (28/4/2013)
---
Hi Jazz

I just wanted to take the time to let you know how great i think "the Grosvenor" is. Being that in a former life i used to run restaurants / cafes i know that getting warm & fuzzy feedback is kind of rare ...

I live in Forest Lake & my local was "Dicey Reilly's" in Mt Gravatt since my uni days. & it closed about a year ago so the search has been on for a new local as the watering holes nearby are beyond ordinary.

I'm pretty certain i've found it in "the Grosvenor" ... It's the best sports bar i've been to since ESPN zone on the Vegas strip. Heaps of screens. Great music. & the girls are great. Taking away the fact the girls are gorgeous & half neked lol, their bar service is easily one of the best in the city.

Especially ... Jordan & Bella who i could listen to chatting away all afternoon ... Holly & Montana always leave me cracking up & smiling ... & Natalia is definitely something special ... they are what makes the place feel like a local. You have a great group of girls who are exceptional at what they do.

Just wanted to let you know. As i said i know genuine & great feedback tends to be rare.

Enjoy your week

Paul

BTW ... The boys (especially Cody) are some of the most professional & switched on security i have seen in over 15 years of working in the city & down the coast. (6/5/2013)
---
Thank you for your feedback. I had lunch today at the Grosvenor . The food was good.

I also had my hair cut by the VERY good-looking blonde hairdresser. She said that she manages the saloon section. She did a very good job. Thank you for providing this service. I enjoyed it and intend to get my hair cut at the Grosvenor again in future.

Sincerely,
Jonathan (16-5-2013)
---
WOW, last Saturday brought my hubby in there for a haircut and I got foils, cut etc. I never been happy with a hairdresser before then, Stacy is my official new hairdresser and your club is officially our new local. Atmosphere was amazing, food was great and the view was superb.
Thanks heaps Ladies we will definitely be back.
Mwah Melissa xox (31/3/2014)
---
Thanks to all the lovely young women at "The Grosvenor" who made my 64th Birthday yesterday such an enjoyable event! I had a wonderful time and feel totally rejuvenated! 64 for me is the new 44! Michael V
(28th February 2015)
---
We had an absolute blast! The food was good, the service was excellent but it was the staff who made our night unforgettable! Big cheers Grosvenor! (and the ladies too of course!)
(Rob Mason - 21st July 2015)
---
Was there last night! Great place to drink, good prices and hot girls! Especially Cody :) will definitely be back after vegas! (Troy Harris - 29th August 2015)
---
Honestly if you go to any other bar in the city you are cheating yourself this place will not only accommodate a booking for a table they'll also try to fit you in should you rock up unannounced! (MARTIN VAN DALEN - July 2016)
---
Great fun atmosphere all the girls were friendly and welcoming. If you're in Brisbane a must do . (
Michelle Ferguson - 19th August 2016)
---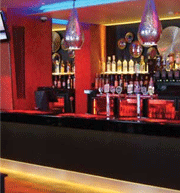 Functions...
Call 3221 0054
or 0415 815 731